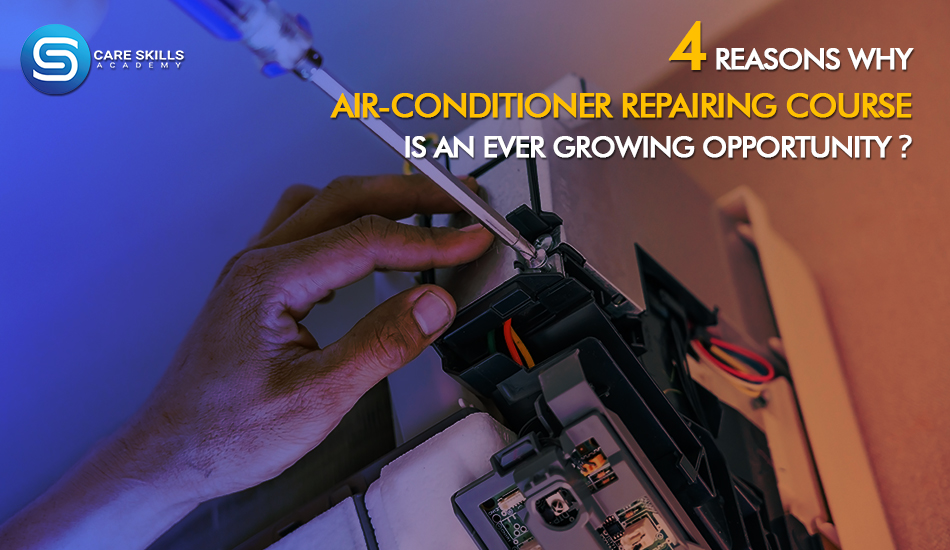 The Demand for AC Repairing Course is huge throughout the world. This industry needs a more skilled technician to fill the gap because the shortage of skilled labor is hitting. This field is loaded with lots of opportunities, expert predicts that the demand of AC repairing technician will rise through 2026, this is the good news for the students who want a steady, stable career in this field. AC repairing technician can include tasks like carrying out inspections, installing heating, repairing and replacing parts, testing new technologies and interpreting blueprints. If you are hands-on and actually attracted by machine then this job may be an exciting route for you.
If you are worrying about Air Conditioner Repairing Course is the right path or not then read this to know the advantages of this career.
1) Fast Job Growth
This field is constantly looking for talented young people. Job opportunity for AC technician should be excellent in the coming years. By 2022, there will be 123,000 new job openings according to the Bureau of Labor Statistics. To take advantage of the opportunity in the field of technician you need to be trained or qualified in this field.
2) Career Advancement
This is the ideal career for students who enjoy challenging work. This industry is one of them which are growing and offer a wide range of career options, and the career in this industry can be rewarding, stimulating, lucrative and well paid. Those students who love to work in this field can expect long-term, stable career with a good salary.
The most popular career profiles student can choose from after completing their course.
1) Servicing store of the repairing company
2) Start a repair shop of your own
3) General service center
4) Teach repair at any institute
3) Industry Demand and Type Of Job Offer
Vocational Institutes may include few specialized courses HVAC, refrigeration, calculus, air conditioning, instrumentation, and fluid mechanics. In this field, you can find a job easily because residential, commercial all require technician or engineers. This field is continuous seeing growth and there is no sign for de-escalate but you have to change with the time and stay up to date with the latest trends.
4) Variety Of Jobs
There are variety of jobs available for this profession people Air Conditioning Installation, furnace installation, air conditioning repair, and furnace repair are all part of the air conditioning profession. This industry is stable because residential, commercial, industrial always need skilled professional to keep Air conditioner in working order.
At Care Skills Academy we have modern lab facility and we use the latest technology for practical training classes and our curriculum is based on career-ready skills which take less time and therefore are less expensive. At Care Skills Academy Training of AC technician may take 60 days and provide lots of information or skills in a comprehensive way. Any student can undergo with our courses and we have convenient classes for working people and CSA also helps those students who are interested in setting up their own servicing centers. If you are looking for Vocational and Skill Development courses, to talk to our consultant and career expert please mail info@careskillsacademy.org or call us at 0120-4564777, 8527797486.